Introducing PBP films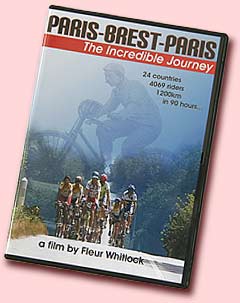 How far have you cycled in a single journey?
to the shops?
to work?
a charity ride?
Paris-Brest-Paris: The Incredible Journey is about to take you further than you've ever been before...
Paris-Brest-Paris is the oldest organised cycling event in the world. It attracts entrants from every continent to meet the challenge of riding 1200km within a time limit of 90 hours and in 2003, over 4000 lined up at the start
This film follows several British cyclists as they prepare for this incredible journey. From the qualifying rides in England to the finish line in Paris, we look at what it takes to succeed in such an event.
Contributions from professional cycling coach Simon Doughty, Paris-Brest organiser Pierre Theobald and many others help to give an insight into the biggest physical and mental challenge that an amateur cyclist can engage in.
If you have ridden Paris-Brest already, are hoping to ride the next one or just curious to find out what it's all about then order your copyof the PBP Video now!