Why we started PBP films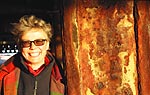 Fleur Whitlock - producer & director Starting in the film industry as a runner 1987, Fleur is now a successful art director and has worked on many feature films and TV dramas including "Inspector Morse", "The Libertine" and "10,000BC". This is her first venture into documentary film making. You can read her account of filming PBP here (download PBP account).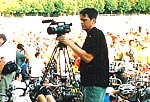 David 'Skippy' Mirus - camera operator David first started in the TV industry in 1986 in Melbourne for a news department then moved to Sydney and worked on corporate and drama productions for two years before moving to England. After volunteering on films for the Royal College of Art and the National Film School, he then worked on TV drama for many years including "The Bill" and "Casualty". In 2001, he went to Bournemouth Film School to study for a BA(Hons) in Cinematography. Two years after completing his BA, David moved back to Australia where he now owns and runs a sports photography company, producing the occasional video.
"The reason I got involved with this project is because Fleur and I are on the same wave length when it comes to films and design etc and also because the project involved machines with two wheels! It was an opportunity I couldn't turn down!"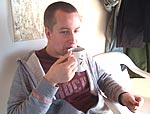 Nick Maltby - editor After taking film studies and video production courses at college, Nick has started to find regular work as a runner on films and commercials. He has written & directed three short films of his own as well as editing several projects for other people. This is the most ambitious project he has worked on yet and has inspired him to explore other documentary ideas.
"It's been a fairly intense effort to complete this project, but the good will and support shown by people has made it more than worth while. It's also been an eye opening experience for me in terms of both film-making and cycling…"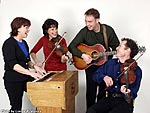 The Music: Barachois Barachois' Acadian traditional music is a rhythmic, high-voltage style born in the heart of a culture kept alive through two and a half centuries on tiny Prince Edward Island, Canada. Their music has been considered by most to be at the forefront of the genre. Many of the songs they sing were originally brought over from France with some of the first settlers in North America. ©Barachois www.barachois.com
Click here for sample music from the film